The Highly Anticipated Next Chapter of the Bennett Series is Here!
The Marshall Plan by Olivia Folmar Ard
Summary
Molly Marshall is fresh out of graduate school, armed with a shiny new degree in journalism and ready to take over the world. There's just one little problem: no one seems to care. Six months have passed since graduation and no matter how hard she tries, she can't find a paying job in the field she's spent years preparing to dominate. Stuck in a menial job she hates, plagued with memories of an abusive childhood, and engaged to a man she may no longer love, she's running out of options and fast. When she stumbles across a long-kept secret, though, everything changes and she's forced to make a choice. What will it be, her ambition or her heart? This standalone sequel to THE PARTITION OF AFRICA invites you to examine your thoughts on family, desire, and the nature of love itself.
***
Guilt pulled me from my musings and back to the kitchen, where Gavin was still in the

middle of a long-winded presentation of the broken down pieces in front of me. Despite

my good intentions, I hadn't heard a single word.

"So basically, all that to say, I'm not really sure what the problem is yet." He backed

away from the table and crossed his arms. "I thought the accelerator pump might need

to replaced, but it looks fine now that I have it here, so now I'm back to square one.

Maybe I need to replace the jets?" He sighed and brought his hand up to his forehead,

swiping at the sheen of sweat gathered there. "I just don't know."

I frowned, wondering exactly how a mechanical engineer couldn't figure out such a

seemingly simple problem, and before I could think better of it, I asked him just that. As

soon as the words left my mouth, I worried that my question would offend him, but he

was quick to offer an answer.

"My knowledge on this subject is strictly theoretical," he said. "Practical application is

still. . .challenging for me. I'm gonna go wash my hands, all right?"

I furrowed my eyebrows and followed him as he made his way back to the bathroom.

"But didn't you take classes in this stuff?"

"Yeah. On the theories." He chuckled as he lathered up the soap on his hands. "I know

what makes an internal combustion engine possible, but I've never worked on one

outside of a classroom before, without guidance. It's completely different experience.

It's like. . ." He walked out of the bathroom, drying his hands on his shirt. "Here you go.

You studied press release writing and public speaking in college, but you're not exactly

ready to start writing speeches for presidential candidates."

I hurled a throw pillow at him. "Geez, point taken."

"You did ask," he said, grinning at me as he dodged the pillow.

"True."

Suddenly, he lunged across the room and landed on the sofa beside me, grabbing me

around the middle and tickling me as he peppered my face with kisses.

"Stop it!" I shrieked, giggling as I tried to escape his grasp.

He laughed, and the tickling gradually began to subside. "I love you, you know."

"I know," I said. "I love–" My breath hitched in my throat as he brushed his lips against

my nose, my cheek, my jaw. With each sequential kiss, his touch grew firmer, more

resolute, and when his lips found mine, all desire to laugh escaped me.

The sheer force of the kiss caught me off guard. I faltered for a moment before leaning

into him, abandoning myself to this wild connection sparking between us. We'd been so

distant lately that his touch felt foreign to me, even as I reveled in its familiarity.

Then, without warning, he pulled back, leaving me twisted at an awkward angle. My

stomach lurched, desire stirring within me like a sleeping monster, dormant but lethal. I

swallowed hard and looked down at my hands, pretending nothing had happened.

There was no use doing otherwise, because Gavin, while flexible on most things, had

one rule he would never, ever budge on. We couldn't sleep together until we were

married.
Wondering where it all began?
The Partition of Africa tells the story of Hattie Greene, a serious-minded sophomore who always follows the rules. She earned her place at the prestigious Howard Knox College & University, and she intends to keep it. Much to the chagrin of her socialite roommate Claire, Hattie ignores the usual college activities in favor of focusing on her academic career. Hattie's status as a perpetual good girl comes into question when Samson Campbell, a married professor with rugged good looks, enters the picture. He's wrong for her on every level, but she can't stay away. They enter an affair that threatens everything Hattie holds dear, causing her to question her very identity. All actions have consequences, and this is no exception. The heart wants what it wants. . .but what if the heart is wrong?
***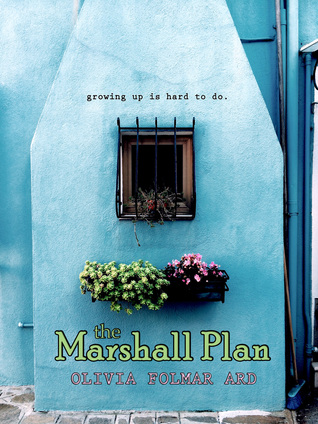 About the Author
Olivia began writing creatively at eight years old. During middle and high school, she attended several writing conferences and submitted poems and short stories to various writing contests. She finished her first long work of fiction, a novella entitled Heaven's Song, in the tenth grade. Her short story "By Its Cover" placed first in its division in the 2008 District III Alabama Penman Creative Writing Contest. She took a reprieve from writing during her years at the University of Montevallo, where she earned a degree in history in 2012. She finished and published her first novel, The Partition of Africa, in 2014.
Olivia currently lives in central Alabama with her husband, to whom she's been wed since the age of twenty-two, and their cat, Buddy. When she isn't writing, she enjoys watching quality television—The Office (US), Parks & Recreation, 30 Rock, and Friends are her favorites—and cooking without recipes. Along with working full-time at her alma mater and studying English at the graduate level, she is busy working on her next literary adventure.
Author Interview
When did you decide to become a writer?

I read The Lion, the Witch, and the Wardrobe when I was five years old. It was the first

book with chapters I managed to conquer alone, and through that experience I fell in love

with the written word. It didn't take long to realize I wanted not only to enjoy the stories of

others, but to create my own as well.


Who encouraged you to pursue your dream?

When I started writing poems in the fourth grade, my teacher read them and recognized

my potential. She encouraged me to keep writing several times over the years, and when

The Partition of Africa was published, she bought a copy immediately. She, along with

other teachers, family members, mentors, and friends, are the reason I am here today.
What inspires you?

This will probably seem like a cop-out answer, but almost everything inspires me! My mind

tends to turn everyday happenings into crazy scenarios. For example, once at a previous

job, a strange man who seemed nervous asked me to point him in the direction of the

company's credit union. Before I'd reached the end of the hall, my mind was already

reeling—what if he was robbing the credit union, and thanks to giving him directions, I was

now an accomplice? The plots for both of my books emerged from several long, drawn-out

"what-if" sessions.


Which authors have influenced you as a writer?

All of them! I jest only in part; almost every author I read has influenced me in one way or

another. Most notably, though, I would have to say C.S. Lewis, J.R.R. Tolkien, J.K.

Rowling, K.B. Hoyle, Leo Tolstoy, Gabriel Garcia Marquez, Audrey Niffenegger, Jodi

Picoult, Jane Austen, and Sarah Dessen have been the most influential.


How do you deal with writer's block?

When I started writing seriously again, I asked a friend and fellow author this very

question. Her answer was simple: "Writer's block is a myth." Initially, I didn't believe

her—after all, I'd been writing off and on for nearly ten years, and I had never managed to

finish anything longer than an unpolished novella. When she explained her answer,

though, I realized she was correct. More than anything, writer's block is usually a

manifestation of a larger issue: lack of planning and/or organization. Writers will always go

through periods in which they feel stuck or uninspired; in order to face these times head-

on, stories must be planned out. It isn't necessary to know every single detail of the plot,

but having a general concept of the destination is paramount to success.


Where did you get the idea for your most recent book?

This may come as a surprise, but I'm not really a big fan of romance. I think—generally

speaking, of course—romance novels tend to sugarcoat the truth, justify bad behavior, and

encourage readers to foster unrealistic expectations. That being said, there's still a part of

me that longs to curl up with a good love story. My goal with both The Partition of Africa

and The Marshall Plan was to craft intriguing, well-rounded romances for people like me,

who usually don't care for the genre.


What are you currently working on?

I'm in the early stages of a third book in the Bennett series entitled This Dread Road.

Claire James, who plays a major role in The Partition of Africa, will return as a protagonist

alongside Hank and Annemarie, two brand new characters. This Dread Road has two

intersecting plots which will please fans of both contemporary fiction and historical

romance.


If you could read only one book for the rest of your life, what would it be?

War & Peace by Leo Tolstoy, translated by Pevear and Volokhonsky. People usually laugh

when I tell them it's the best novel I've ever read, but it's the truth!


I would like to review your book. Can I get a copy from you?

Absolutely! Please send a review request with your name, website/blog name, social

media information, and URL to ofa.author@gmail.com.


I'm an author, too! Will you read and review my book?

I do occasionally read books for review for the blog Read Yourself to Sleep

(http://readyourselftosleep.wordpress.com). I accept all genres, with the exceptions of

horror and erotica. Please send all queries by email to ofa.author@gmail.com.
Is there a particular message you would like readers of The Marshall Plan to come away with?

One of the hardest times in my life was the six months or so after I graduated college.

My wedding was a lone bright spot in what seemed like an endless stretch of

disappointment. After graduating summa cum laude from a great school, I was still

working at a fast food restaurant with no end in sight. The only jobs in my field I could

find either didn't pay enough or required additional education; those outside my field I

qualified for were no better than the job I already had. During those months I felt like my

life was falling apart. Watching other people my age begin their dream careers, start

families, and buy houses made me incredibly depressed. Some days I felt like I was the

only person on the planet who didn't already have life figured out.

Luckily, a few months later, things started sorting themselves out. I found a better job

and my husband and I started to get our finances in order. Looking back nearly three

years later, I see that period of time as a tiny dark blotch, barely significant in the grand

scheme of things. While I was going through it, though, I really could have used some

kind of encouragement, some confirmation that I wasn't the first person to go through

this, and I wouldn't be the last.

When people who are transitioning from one stage of life to the next read The Marshall

Plan, I want them to know this: What you're doing is brave. Going from college life to the

"real" world is stressful and sloppy and disorganized. Next to no one has everything

figured out. It's like experiencing a second birth. You don't know what's going on, and

that's okay.

You may have to work a job you hate for a while, or one you're overqualified for, or one

that pays next to nothing. That's okay. Your job in no way determines your value as a

human being.

I promise this madness doesn't last forever. It feels like it will, I know, but it doesn't. It

will soon enough be replaced by another madness, hopefully one more manageable,

and you will gradually stop worrying over whether you will fall apart. But while that

feeling does last, know you're not alone. You never will be. And I promise, everything

will be okay.
Molly Marshall's Top 10 Journalistic Ethical Dilemmas
I've wanted to be a journalist for years now, but I never realized how hard it would be to

do the job the right way. As it turns out, journalism is so much more than writing

interesting stories, and it takes more than a good person to be ethical. Whether you

dream of having a community column or penning a dramatic exposé, there are rules to

follow when you're responsible for disseminating information to the public. I break more

than one of those rules on my quest for glory in The Marshall Plan. Here are my picks

for the top ten ethical dilemmas facing young journalists today.


1) Truth should be your guiding principle.

This might seem like a no-brainer—it certainly did to me at first—but it's harder

than it seems. It's one thing to be honest about the facts you present; it's another

to have anything other than the truth motivate your search for a great story.

Pesky little things like jealousy and desire for revenge like to sneak in when

you're not looking. No matter how tempting it is to follow them, don't! They'll only

hurt you in the long run.
2) Stories should be completely, 100% unbiased.

There's a reason jury selection is such a long, drawn-out process—the courtroom

process only works if the jurors come to a decision based on the evidence

presented them, not on any prejudices they may have. This is why I should have

never tried to write that exposé—I had entirely too many personal connections

and biases.


3) Journalists should respect the individual's right to privacy.

While snooping is sometimes required when looking for the truth, there's a right

way to do it. When I was trying to gather information for the exposé, I did some

bad things. Not only were some of my actions unethical, they were highly illegal

and violated more than one person's right to privacy. Thank goodness I had

some sense knocked into me before I kept going down that road!


4) Accuracy of stories should be confirmed early on.

Like #1 this seems a bit obvious, but I still managed to slip up here. In journalism,

as in a courtroom, circumstantial evidence alone isn't enough. Before I started

investigating such a he said, she said story—especially one so scandalous—I

should have gone straight to the people involved to get their accounts. I didn't

have confirmation that my story was correct until after I dropped the story. If I'd

published it without knowing for sure it was accurate, I might have ruined

someone's life for no reason!


5) Concern for the public does not justify distorting the facts.

Despite my personal biases that played into my investigation, there really was a

part of me that thought I was doing the right thing for the Bennett community.

Unfortunately, wanting to help others doesn't justify unethical practices. Putting

an intentional slant on a story for any reason is not okay!


6) Avoid conflicts of interest like the plague.

If a story has the potential to cause you benefit or harm, you're probably more

interested than anyone else in seeing to its outcome, but trust me—drop it on

someone else's desk. The moment your primary concern becomes personal

welfare, it's impossible for you to follow guideline #1. This is one of the few rules I

didn't violate while trying to write the exposé. Ethics: 5, Molly: 1.


7) Don't insert opinion into a piece being presented as news.

Editorials have their own sections of the paper for a reason—opinions have no

place in a news story. This is a crucial mistake I made over and over again.

Instead of gathering all the evidence I could, I cherry-picked so the story would

match up with my opinion of the people involved. It seemed like a good idea at

the time. . .
8) Stories shouldn't be written expressly for accolades.

Once again, in case you've been snoozing—in journalism, the TRUTH should be

your primary motivation at all times. Technically I didn't violate this during my

investigation, since I wasn't trying to win an award. Even so, the hope that the

story would launch me into a successful career was a major factor in why I

pursued it in the first place.


9) Make promises only if you can keep them.

This goes back to #4. Accuracy matters! I almost turned in a story proposal to my

editor without even getting firsthand accounts from the people involved. What if

I'd written the initial article and then hadn't been able to follow through? Not only

would my credibility (rightly) be damaged, the reputations of others would be

called into question without resolution. Bad all the way around.


10) Don't use your position to manipulate outside business interests.

Writing stories encouraging people to invest in or patronize your business is

wrong, for obvious reasons. They didn't pick up a newspaper to read an

advertisement in disguise? Unfortunately, I did this to an extent with my

community column. Since I wasn't manipulating a news story, I suppose it wasn't

so bad, but still a little sketchy.

You're probably thinking, "Hey Molly, maybe you shouldn't be a journalist after all!" I

thought that for a while myself, but honestly I think I've learned my lesson. Don't judge

me until you've read my story!

************

Items on this post were based on the Associated Press Media Editors' Statement of Ethical Principles. Thanks to all

the ethical journalists and correspondents who keep us informed!